I thought I'd blogged about this earlier, but I can't seem to find it. No problem, I was going to recap it anyway, so now I'll just start from scratch. A few weeks ago, someone on the Oz Club's message board noticed something interesting in a movie he caught on the Hallmark Channel. When I read the note, I did some quick research and found that another showing was coming up later that morning. So I quickly set the TiVo to record it, and now I can share the whole thing with you.

The movie is Samantha: An American Girl Holiday, and yes, it's based on the very popular doll series. This one is set at the turn of the century, and early in the movie, Samantha gets a new book. Guess what it is? I'll let you take a look at the pictures...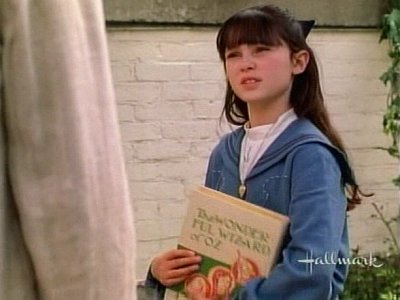 As far as I could tell, the book only appears in the first fifteen minutes or so, then they get on with the actual meat of the story. Still, very cool.